This is the perfect time of the year to hit the open road and experience the outdoors. We are in the thick of summer, with amazing weather, allowing for us to soak in the sun. Not to mention, autumn is fast approaching, when the colors begin to change and literally transform the nature that surrounds us.
Taking a roadtrip in a car is fun, but nothing can compare to the feeling of flying down the road on a motorcycle. A bike ride provides a great sense of freedom and places you within the surrounding landscape with no obstructions. If you are looking to plan your next ride, here are three awesome locations to consider in North America.
3) Needles Highway, Black Hills, South Dakota
Needles Highway leads to the Sturgis Motorcycle Rally, which takes place every August. This ride was basically made for motorcycles. The landscape is amazing, providing for views difficult to find on any other road. The highway actually passes through two sheer granite wall tunnels (Iron Creek Tunnel and Needles Eye Tunnel). In addition to the landscape, you may even find yourself up close to some wildlife as well, including bison, deer, and antelope.
2) Route 50, The George Washington Highway, West Virginia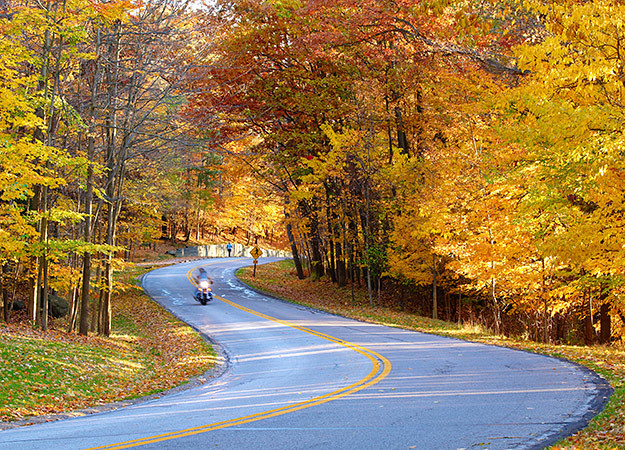 Motorcycles are made for twits and turns; they make for a truly exhilarating ride. On the George Washington Highway in West Virginia you will find just that. Not to mention the breathtaking mountains, rivers, and scenery. This ride is just north of the Monongahela National Forest and travels right past Cathedral State Park along the way.
1) Tail of the Dragon, Deal's Gap, North Carolina
Similar to Route 50, Tail of the Dragon has an enormous number of turns providing for a fun bike ride as well. In fact, this route has 318 curves in 11 miles! The road borders the southeastern portion of the Great Smoky Mountains National Park providing spectacular views. The views have made it a fan favorite for featured films and television shows, with appearances in The Fugitive and Top Gear. If you are able to make it on this ride, make sure you check out the "Tree of Shame," a monument to those who have crashed their bikes on the Trail of the Dragon. The unfortunate riders who have let this ride get the best of them have nailed bike parts to the tree and dangle them from the branches.
So get out there and experience the world around you… on a bike. Stay tuned for some more great locations to ride and let me know if you have any suggestions for great rides in your area!